The best way to keep up with us is by following us on Facebook:
Or, by joining our mailing list:
beAd Infinitum's newsletter

The best way to contact us is by email.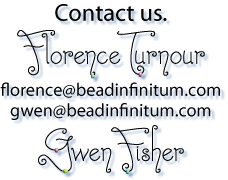 That's florence @ beadinfinitum.com and gwen @ beadinfinitum.com.
Please let us know by email before mailing us anything.
beAd Infinitum
P.O. Box 8074
Long Beach, CA 90808
If you need our attention immediately, please call Florence at (562) 421-9966.
Florence lives in California, in the Pacific Time Zone.