The Platonic solids and their friends are all dressed up in their favorite herringbone cocktail dresses and fringe drop jewelry, ready to go out on the town. Ionic Polyhedra beaded beads feature the three-herringbone weave cable (simplified for quicker assembly) outlining a hollow inner structure of crystals that lets light sparkle through the center. We named the pattern "Ionic" because the columns of seed beads topped with drops remind us of the Ionic columns of the ancient Greeks.
The pattern includes instructions to make the Ionic Cube and Octahedron shown here, which are detailed enough for an advance beginning bead weaver. For advanced beaders, we include lengthy descriptions of how to create other shapes using this technique, including a three page spread showing the steps to the elaborate Ionic Icosahedron. A handy table includes seven different geometric objects that we use to design beaded beads, and we include detailed photographs and written explanations describing them all, including bead counts and sizes. The pattern ends with photos and a discussion for making Mini Ionic Polyhedra, some of which are small enough for light earrings. Finished bead sizes range from 11mm for the Mini Ionic Cube, all the way to 40mm for the IonicIcosahedron, and everything in between.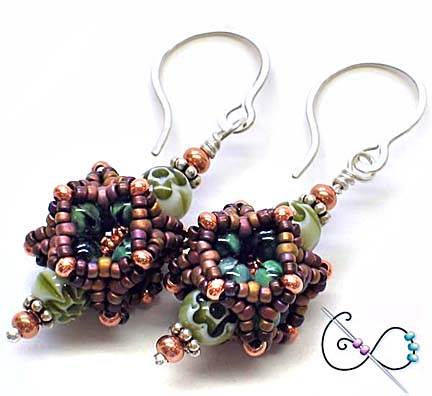 Mini Ionic Cube Earrings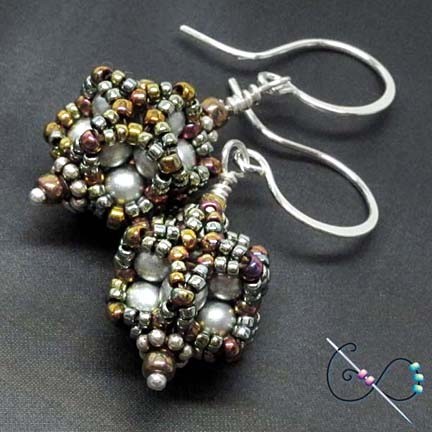 Mini Ionic Octahedra Earrings
Examples
Follow the thumbnails to see more about these examples.
More Details...
The pattern has 24 pages and 90 color illustrations and photographs.