---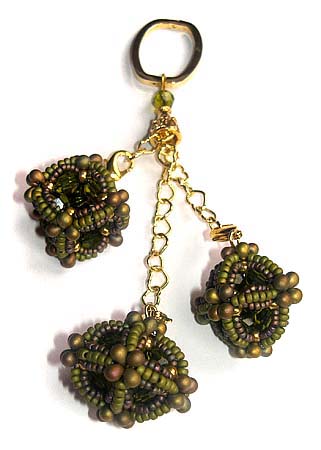 Ionic Polyhedra Taschenbaumier
by Nicki (Immer-wieder-Perlen)
Allerheiligen im Mürztal/Styria/Austria
Nicki says,"This time I used the pattern for the Ionic Cube, the Ionic Octahedron and the Ionic Pentacluster.
I have a lot of favorite colours and one of them is green! So I made a little pendant for a bag (in Austria and Germany we say "Taschenbaumler") in green with a little bit of gold. On every shape there is a little lobster clasp so you can use it also for a bracelet, a bookmark or you wear it on a neckwire. There are many options!"
The Ionic Polyhedra Pattern includes instructions for all of these beaded beads. Find it on our Kits page.
See more of Nicki's beadwork at http://immer-wieder-perlen.blogspot.com/ and in her Picasa Album http://picasaweb.google.com/Nicki.Gen.
All images, designs, and text on this site © 2005-2014 Florence Turnour and Gwen Fisher. Permission required for any capture or reuse.
beAd Infinitum, P.O.Box 8074, Long Beach, CA 90808