The Rivoli Urchin beaded pendant showcases a sparkling rivoli crystal with eight arms or ridges of ornate seed bead work over a cluster of larger beads. The detailed bead weaving includes circular peyote stitch and a stitch that lies on the border between herringbone stitch and square stitch. The symmetric cluster resembles a sea urchin skeleton or perhaps a long legged starfish that is tightly clutching a rock.
The spider-web back provides structure and serves as a bail for stringing a chain or thick cord. The seed bead work on the rest of the necklace matches the ridges on the Urchin in both style and technique. The detailed instructions include the straight herringbone stitch cable with captured gems (in several sizes) and both parts of the toggle clasp. Using the combination of techniques, you could also make several Rivoli Urchins, and use them as components to design a more elaborate necklace or bracelet.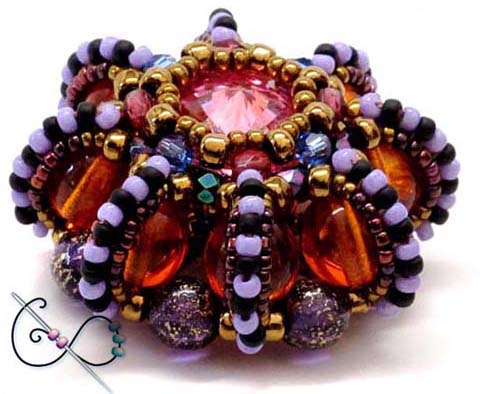 Examples
Follow the thumbnails to see more about these examples.
More Details...
The pattern comes in two parts, the Rivoli Urchin Pendant and the Herringbone Clasp and Cable. Together, the patterns have 32 pages, including 10 pages of photos of variations to inspire you. There are a whopping 150 color illustrations and photographs.