Us too! The Beaded Starburst Galaxy is a collection of 3-dimensional beaded stars in different sizes and shapes, all made with the same set of bead weaving techniques. Make stars with anywhere from three to eight (or more!) points in four different sizes. The instructions show 16 different stars, with our favorites in several color ways.
Wear them one at a time or in a constellation
Each star is a beaded bead with holes at the tip of the points. Make just one star, add a jump ring, and a piece of string for an easy-to-wear pendant. Link stars together with wire and jump rings, or string them to make necklaces, bracelets, and earrings. Stars have open centers that you can fill with round beads, rivoli crystals, montees, and even buttons. Finished sizes of range from 1/2 inch (14 mm) for a mini 4-star to 1 3/4 inches (51 mm) for a large 8-star.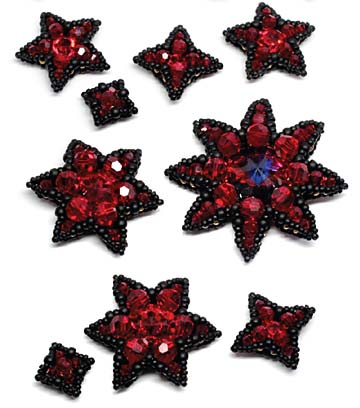 Gothic Starburst Galaxy Kit
Examples
Click the thumbnails for more.
More Details...
The pattern has 27 pages and 100 color illustrations and photographs. Each kit make the 9 sizes of stars shown in the Gothic Kit photo. All of the crystals in the kits are Swarovski.