The Lotus Drops are small, beaded components that can be assembled in to a variety of different kinds of jewelry, including these long chandelier earrings. You will learn a combination of stitches that you can use to make lotus flowers in two different sizes. Each component looks the same on the front and back, and it is a beaded bead with holes at the tip of each point. This lets you use them as components by linking them together with wire and jump rings. See how to hang dangles from their tips, and link them to make lots of different necklaces, bracelets, and pendants. Also learn to make big round flowers with an open centers that you can fill with captured beads or cabochons.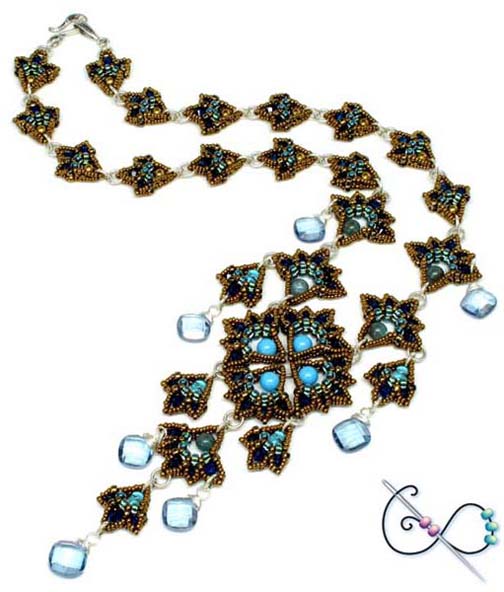 Aqua Bronze Lotus Drop Necklace Kit
Kits include solid sterling silver jump rings and clasp.
Necklace Kits do not include briolette drop beads
or wire to wrap them.
Examples
Follow the thumbnails to see more about these examples.
More Details...
The pattern has 16 pages and 81 color illustrations and photographs. Kit findings are sterling silver. The pink earring kit includes CZ briolettes. The purple earring kit includes Swarovski crystals and CZ briolettes. All of the crystals in the necklace kit are SwarovskiThe Necklace kit does not include briolettes or wire for wrapping them, but includes sterling silver jumprings and clasp.