This pattern starts with a beginner's step-by-step lesson describing how to construct the Basic Beaded Dodecahedron with 30 (round or bicone) beads. Then the pattern describes the main project, the Infinity Dodecahedron, a hollow lacework of beads with 12 pentagonal holes wide enough to see through. The instructions carefully guide you through the steps for weaving a layer of beaded lace that curls into ball with a large rattle bead on the inside.
A versitile weave
You can easily scale the Infinity Dodecahedron by using larger or smaller beads. You can also construct many geometric shapes with the Infinity Weave. The pattern discusses all of the regular solids, in addition to several variations using different types of drop beads.
Want a puzzle?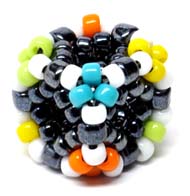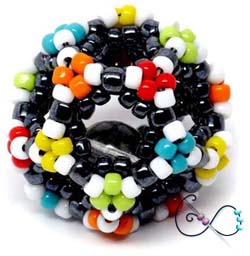 The Puzzle Kit makes these two larger beaded beads.
The Puzzle Kit includes the beads needed to make both a dodecahedron and a cube, and each face has one corner in each color. The pattern includes instructions for the beadwork and pictures of the completed puzzle beads, but it is up to you to figure out which color goes where! While the pattern provides step-by-step instructions for how to weave the Infinity Dodecahedron, the second puzzle is for you to figure out how to generalize and weave an Infinity Cube. The beads in the Puzzle Kit are larger than those in the other Infinity Dodecahedron kits. In diameter, the dodecahedron is about 1 1/4 inch and the cube is 5/8 inches.
Examples
Follow the thumbnails to see more about these examples.
More Details...
The pattern has 21 pages and 91 color illustrations and photographs.