With beads in colors A through U, you can create the color combination of your dreams in this eye-catching pendant, reminiscent of the Aztec calendar. The instructions include four pages of recommendations and strategies for choosing colors, chock full of images to inspire you. There are simple color schemes that you can easily alter to your liking and a full-page black-and-white diagram for you to color (get out your markers!) to plan your own color scheme. The pattern concludes with a gallery showing a variety of Medallions in colors we love. What's your favorite color?
The Medallions are 2 3/8 inches in diameter. They are created with layers of beadwork, and the thickness helps them maintain their shape when hanging, while remaining somewhat flexible. In this project, you will learn to use our Fringe Method to capture the rivoli, and then set the bicones radially, with nothing behind them, for maximum sparkle. You will enjoy seeing your medallion grow as you add each new color all the way out to the crystals on the edge.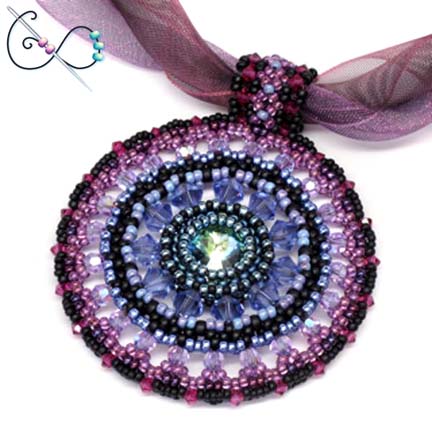 Color Medallion in Violet Boudoir
Examples
Follow the thumbnails to see more about these examples.
More Details...
The pattern has 31 pages and 93 color illustrations and photographs. The kits each make one pendant. Kits include Swarovski crystals.