---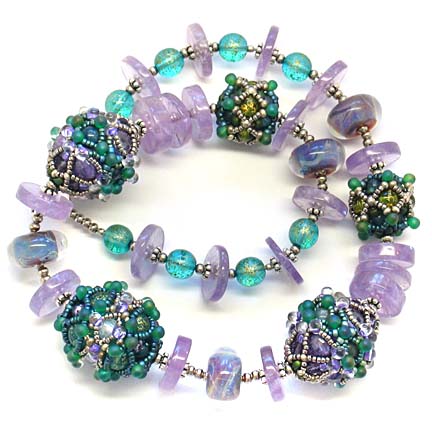 Time Machine Necklace
by Gwen Fisher
This Time Machine necklace sparkles with glistening beads in amethyst, blue green, and leaf green. Tiny seed beads in shiny silver and matte blue outline beads of cubic zirconia, apatite, amethyst and glass. This chunky statement necklace features three Time Machine beaded beads and two Double Rose Window beaded beads strung with amethyst disks, sterling silver daisy beads, hand made borosilicate glass beads, gold speckled glass beads, and nickel seed beads. The large sterling silver toggle clasp is very easy on the hands, yet quite secure.
Check out Gwen's Etsy site to see her beadwork for sale.
All images, designs, and text on this site © 2005-2014 Florence Turnour and Gwen Fisher. Permission required for any capture or reuse.
beAd Infinitum, P.O.Box 8074, Long Beach, CA 90808